[REVISED] 大踏南生圍 (Cycling in Nam Sang Wai)
May 19 2013 (Sunday)
南生圍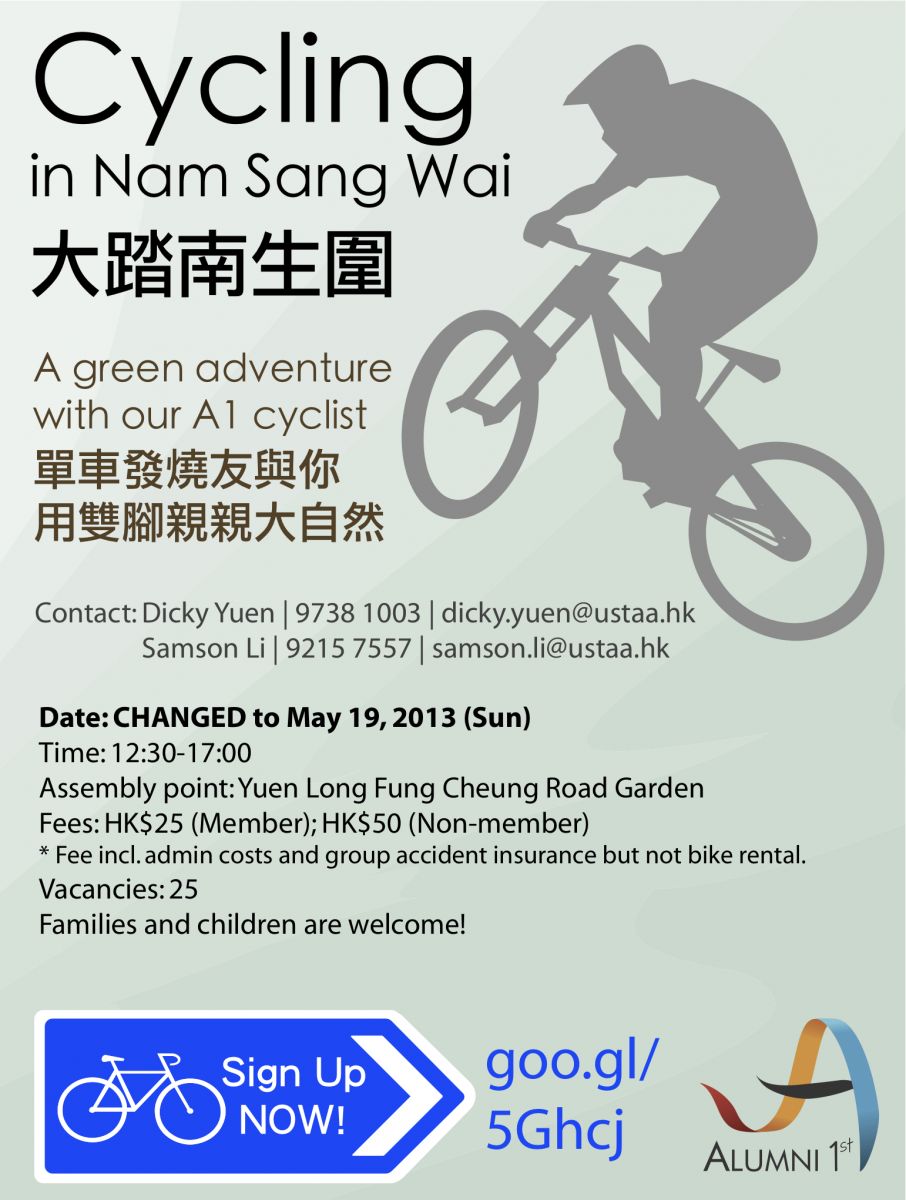 **原定4月21日的單車團由於天雨關係改期, 現改為5 

月19日, 重新接受報名! 詳情如下**
單車發燒友與你用雙腳親親大自然
冬天過去, 又到春天, 踩單車遊元朗南生圍絕對是春天花開季節最佳的活動之一.
活動詳節: 日期: 2013 年5 月 21 日(星期日)
時間: 12:30 - 17:00
價錢: 會員 $25 非會員 $ 50 (租單車費另計, 費用主要為行政開支及為參加者買的團體意外保險支出)
名額: 25人 (歡迎家庭及兒童參與, 兒童必須在家長陪同下參與)
當天, 我們將會在元朗鳯翔路花園集合. 往附近的單車鋪租單車. 大概路線如下: 青山公路 > 南生圍路 > 敬輝農場豆腐花 > 電影拍攝勝地南生圍村 > 坐小艇到山貝路 > 朗屏 > 回起點.
[
參考地圖
]
整個路程估計於五小時內完成. 此路線亦適合單車新手及老手. 沿途我們將飽覽郊區及鄉村景色. 該路線將會由我們A1 EX CO, 單車發燒友 Samson Li 領導. Samson 在香港有多次踩公路及比賽的經驗, 活動中他將跟大家分享在香港不同踩單車的最佳路線, 及帶領我們欣賞南生圍的自然景色.


注意事項:
* 請自備飲用水.
* 如有頭盔, 建議於活動時配戴.
* 如有需要, 請配戴太陽眼鏡, 使用防曬霜和防蚊用品.

查詢:
Dicky Yuen | 9738 1003 | dicky.yuen@ustaa.hk
Samson Li | 9215 7557 | samson.li@ustaa.hk
報名表 :
goo.gl/5Ghcj
A green adventure with our A1 cyclist
Spring has come again. Cycling in Nam Sang Wai is definitely a great activity in this flowering season.

Details:
Date: May 19, 2013 (Sun)
Time:12:30-17:00
Fees: HK$25 (Members); HK$50 (Non-members)
Fees include administrative cost and group accidental insurance, while do not include the cost of bicycle rentals.
Vacancies: 25 (Families and children are welcome, while children must be accompanied by parents. )


We will gather Yuen Long Fung Cheung Road Garden and will rent bicycles nearby. The route of the cycling tour: Castle Peak Road (Yuen Long) > Nam Sang Wai Road > King Fai Farm (famous for tofu desserts) > Nam Sang Wai Village (famous for filming) > a short boat trip across a river to San Pui Road > Long Ping > Starting point.

[Map for reference]

The tour is estimtated to take no more than 5 hours, and is suitable for all levels. We could enjoy the fantanstic country scenery on the way.

Samson Li, our A1 Exco and a cycling maniac, leads the tour. Samson is experienced in bicycle racing in Hong Kong. He would share different cycling routes in Hong Kong with us, and would show us the natural beauty of Nam Sang Wai.

Note:
* Please bring drinking water.
* If you have a helmet, you are recommended to wear it during the cycling tour.
* Please wear sunglasses, sunscreen and mosquito repeller if necessary.

Enquries:
Dicky Yuen,dicky.yuen@ustaa.hk
Samson Li, samson.li@ustaa.hk

Register here: goo.gl/5Ghcj
REGISTER NOW!