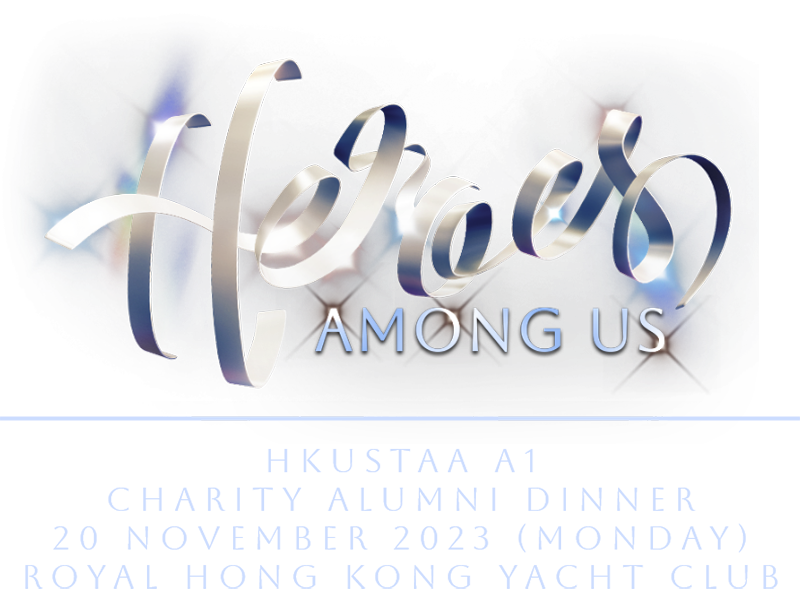 Get ready to be inspired as we come together to celebrate the unsung heroes within our HKUST family. Our very own HKUST President, Prof. Nancy Ip, will join us as our honorable guest, where you'll have the opportunity to hear about the latest developments at HKUST and the incredible achievements of your fellow classmates.

The charity alumni dinner is a wonderful opportunity to honor each and every one of us who have made a positive impact on our school, families, and society. It's a chance to show our appreciation and celebrate our collective success.
Event Details
DATE
20 November 2023(Monday)
VENUE
Royal Hong Kong Yacht Club
COST
Alumni Endowment Fund donation
of $650 or more
A Night of Giving
At our charity dinner, your participation fee will be donated in full to the HKUST Alumni Endowment Fund. To ensure that our impact is substantial, we kindly request a minimum donation of $650 for each attendee. Your generous support will empower deserving students, foster innovation, and drive positive change within our alma mater.
Unleash
Your Creativity
For those who love to host and curate memorable experiences, we have a special opportunity just for you. Gather a group of six or more friends, or fellow alumni, and you'll have the chance to name your own themed table. From a shared passion for art to a love for entrepreneurship, your table becomes a center of engaging conversations and connections. Don't miss this exclusive opportunity to leave your mark on the event!
Highlights
of the Evening
Inspiring Keynote Speech
Be inspired by our president, Prof. Nancy Ip, as she shares the latest developments and achievements of HKUST, highlighting the excellence that continues to propel our university forward into new frontiers of innovation.
Networking Opportunities
Connect with fellow alumni, industry leaders, and like-minded individuals, fostering valuable connections that can propel your personal and professional growth.
Drinks with a Twist
Raise your glass and toast to our heroes with a selection of red and white wine. Savor the flavors and enjoy the evening in good company.
Mark Your Calendar
Save the date, 20 November 2023, and reserve your spot for this exceptional evening. You contribute not only to the growth of our alma mater but also to the betterment of society.

Together, let's make a difference.
Dear alumni,

The HKUST Charity Alumni Dinner, themed "Heroes Among Us," has reached its maximum capacity and is now sold out! We want to express our deepest gratitude for your overwhelming support and enthusiasm for this event. Your response has been truly remarkable, and we are honored to have such a dedicated and engaged community.

For those who have secured their spots, get ready for an extraordinary evening of inspiration, celebration, and meaningful connections. We look forward to welcoming you on November 20, 2023, at the Royal Hong Kong Yacht Club from 7:00 PM to 10:00 PM. Together, we will honor the unsung heroes within our HKUST family and showcase the remarkable achievements of our fellow classmates.

If you were unable to secure a ticket, we apologize for any inconvenience and encourage you to stay connected with us for future events and opportunities. Your continued support is invaluable, and we appreciate your commitment to making a positive impact on our school, families, and society.

Thank you once again for your overwhelming response, and we eagerly anticipate a memorable and impactful evening at the HKUST Charity Alumni Dinner.

Best regards,
The HKUST Charity Alumni Dinner Organizing Committee